Birthday for Wolfgang and Sam
Julena's son, Wolfgang, and his friend, Sam, both have birthdays on May 1. They celebrated together this year by inviting a group of boys to a fun, afternoon party. The guests were asked to RSVP by bringing a baseball hat into Jules & BING! On the hats, Julena embroidered the last name of each child and gave them back to the boys after the birthday party.
All of the boys walked away with a unique and personalized party favor. One they will use often when they throw on their favorite baseball cap. Their last names sewn forever into their hats, this gives them a memory that will last a lifetime.
Jules & BING! is the perfect stop for party favors, gifts, and other unique approaches to all of your celebrations!
Jules & BING! Saves the Day!
On the morning of her wedding day, a bride walked into Jules & BING! in a panic. Some personalized items she had ordered online hadn't arrived and she was left without gifts for her father and father-in-law. Having thought them through very carefully, she was heartbroken that she could not give them on this special day. As luck would have it, she found our store and came in, bursting with hope, that she might just get her special gifts after all. Julena was able to work with her, on very short notice, and embroider two handkerchiefswith very meaningful messages.
Because she came to us, we were able to save the day. Her dad and the groom's dad received handkerchiefs embroidered with these thoughtful sentiments, signed lovingly by her.
For her father:
Daddy, Of all the walks we've taken this is by far my favorite.
For her father-in-law:
Thank you for your loving example of a husband, father, and man.
"Oh my gosh, thank you so much," she said. "I've been bragging all day about how incredible you have been with saving the day today! I am so grateful to you!"
Another woman also found our store just in the nick of time! Having spent all of her time and energy on a very successful JDRF Gala the night before, she had no time to buy Mother's Day gifts. All the same, she desperately wanted something meaningful to give. When she came into Jules & BING! she was able to find beautiful bags and have them personally embroidered. Just because she had to grab something last minute didn't mean she wanted it to feel that way.
She was thrilled that, amidst her very busy schedule, she was able to make Mother's Day special for the special women in her life.
When you come into our store and talk to Julena, you're able to create something beautiful. Shopping local allows you to avoid the impersonal nature of ordering something online, the hassle of shipping, and a long wait time, you receive personal, heartfelt attention, creative and unique ideas, and exceptional service… and, of course, a memory that will last a lifetime.
Monogram Your Man
Your dad is at once soft and strong, tender and tough…. helping you through the world while protecting you from it. He has held your hand— and maybe he's given it away. He has given you wings and the strength to use them. He has celebrated your victories and held you during loss.
Your dad is the combination of so many little moments— countless experiences that add up to a childhood… a lifetime. A monogram is made up of little stitches that come together to make something bold, strong, and beautiful. For your father, or the father of your own children, give him a gift that is both thoughtful and powerful. You can give him the name that you share, the name that he has given you.
Monogramming your man is about threading a memory, an experience, a moment… one stitch at a time. Alone, one stitch is small and barely visible; but together, the stitches come together and represent the name, the life, the man. It is at once strong and soft, tender and tough.
Jules & BING! has a wide selection of gifts for your guy: duffel bags, baseball caps, wine bags, golf towels, and much more. You are also encouraged to bring in your own items and we will help you make them special, unique, and personal. Come on in and let us help you… monogram your man.
Wedding Day... Embroidered Forever
There are some moments in life that will be permanently etched in your memory, the ones you will want to hold onto forever. Whether you've been planning for a few weeks, months, or ever since you pretended a blanket was a veil, your wedding day will, undoubtedly, be one of the most special days of your life. And one of those moments you will always want to remember.
Julianna is getting married in November… she has ordered her cake, tried on dresses, and picked out flowers. She and her husband-to-be have invited those closest to them to be in their wedding party and before they all walk down the aisle, Julianna and Tyler wanted to celebrate them. At a special brunch for her wedding party, Julianna chose to present her bridesmaids, maid of honor, and flower girls with a lovely and useful cosmetic clutch. It was embroidered in their favorite color with last initial as well as their role in the wedding. Tyler gave each of his groomsmen a personal travel organizer with their monogram.
A personalized gift is a beautiful way to express your joy throughout the wedding celebration. Whether a gift for your wedding party, finding a unique gift for the bride and groom, or using embroidery to mark your special day as a soon-to-be married couple, it is a sophisticated and heartfelt way to go. At Jules & BING!, it is our passion to help you find the perfect gift… just the right way to show how much you care.
Gifts aren't the only way in which embroidery can be threaded throughout your ceremony. Imagine that your "something blue" is your wedding date stitched in a lovely blue thread somewhere inside your dress; or that the groom dons a bow tie with his monogram or the wedding date; maybe your ring bearer carries a pillow displaying a beloved phrase or bible verse. There is simply something timelessly special and elegant about using embroidery to mark the special occasion.
We are overflowing with ideas that we can't wait to share with you! When deciding upon the perfect gift or the perfect way in which to incorporate embroidery into your wedding, it takes time. We have set aside Fridays for personal appointments for this very reason. Whether you want to talk to us about an upcoming wedding or for anything that might require the need for extra time and attention, we encourage you to call us and schedule your Friday appointment today.
Our number is (513) 271-5853.
From Back-to-School to Back-to-College
When our kids head back to school, it's one of those heavy and substantial moments that marks the passing of time. That first-day-of-school photo reaches into your life and abruptly reminds you of how quickly your child is growing up. Permanent teeth have moved in where the spaces used to be, those pillowy cheeks have disappeared to reveal an emerging adolescent, or a sudden growth spurt has forced you to look up to see your child's eyes.
It can take a parent's breath away.
At Jules & BING! we love traditions, those special things that are unique to your family. Personalizing a new lunchbox, freshening up a backpack, or adding a fun pop of color to your favorite outfits is such a sweet way to welcome another school year. When everyone has the same backpack or similar lunch totes, we love to help your personality shine with your name or monogram— something special to remember those tender, precious moments.
We know that you remember when her backpack was almost as big as she was, proudly walking off for her first, full day of kindergarten. We know that you can still see his big eyes looking up at you, not quite sure what school would be like or if he would like it. And we know you have lost count of lunches made, notes written, hugs given. Every year seems to go a little faster, despite our fierce attempts to slow them down, stay in the moment, and savor their childhood.
And then, before we could ever prepare ourselves, back-to-school becomes off-to-college. We are saying goodbye and while we know it's certainly not forever, knowing that we won't pick them up at the end of the day… well, it can take our breath away. And that moment requires attention of its own. Marking this momentous transition with a personal memory that they can take with them— something that blends the whimsy of childhood with the practicality of adulthood.
We can't stop time from ticking by, we can't keep your children little, and we can't even make it easier. But we can help you celebrate each moment, mark each milestone, and create new traditions. And maybe, by embroidering these special points in time, it might not be easier… but it will be better, and breathtakingly beautiful.
The Gift of Friendship
Good friendships are threaded together by an infinite number of moments that all come together, throughout a lifetime, to create something beautiful. All those deep conversations, laughing at things that no one else understands, late night phone calls, and truly being there for each other when you're needed. One moment at a time, relationships are stitched together, embroidering your life with the richness that only friends can bring.
In our happy, little shop, we love the idea of finding ways to celebrate and honor what makes you special. Your monogram, your name, the date of something important… these are all ways in which we can help the you shine through. And then there are other times when we can help you celebrate the gift of friendship— a group of your people, coming together to celebrate the love you have for each other, while still allowing your own, unique spirit to shine through.
Earlier this month a group of old friends went to Rosemary Beach on a girls' trip. One of the friends came bearing an armful of white, baseball caps, wrapped beautifully, with each woman's monogram embroidered in a different font and color. She wanted everyone to have the same thing, for they were there to celebrate the commonality of their deep and longstanding friendship; but she also wanted their own, individual spirit to shine through. We can't think of a better way to honor the beauty of friendship… we imagine those hats will stay with that group forever, reminding them always of an amazing trip and lifelong friends.
Recently, our very own, Mary, turned 13-years-old and she celebrated at a local pizza place with her tennis team. After eating pizza, singing "Happy Birthday", and lots of laughing, each girl went home with her own, personalized headband. Each headband is simple and white with their name in blue script. The evening was a fun way to celebrate the (now) teenager and it was a wonderful way for the girls to come together as a team, while still making each one unique. Whether kids are part of a team or part of a birthday party, sending them home with a personalized gift is a wonderful way to make each child feel special!
A trend that we have seen a lot of lately, and one with which we are in love, is weddings! The options are truly endless… handkerchiefs, t-shirts, bags, pajamas, and so much more. A bride recently came in with navy, long-sleeved shirts and had each one monogrammed in different colors and the same, curly, pretty font. They have all been friends since high school and are coming together for her wedding. We love imagining them all, united by their years of friendship, shared laughter, and infinite conversations, while still letting their own, special personality stand out.
And, of course, that's what it's always been about for us. The monogram is so much more than a collection of stitches. It's when all of the stitches come together to create something beautiful, something that you will keep forever, something that, years down the road, you'll find, hold to your heart, and think, "Oh, I remember that!"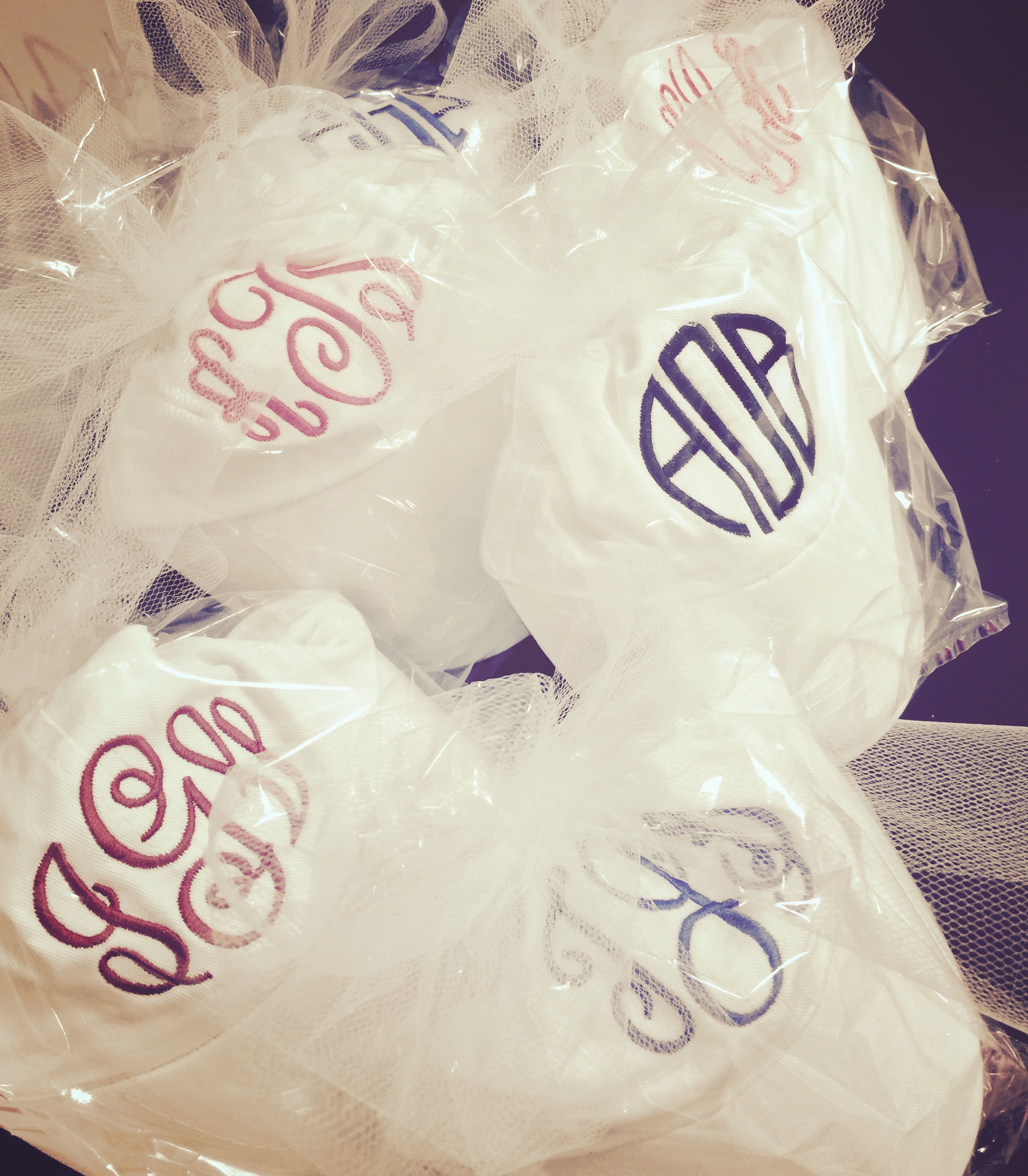 Making Memories That Last
As the end of December approaches and we are perched between the year that is winding down and the one that is about to begin, we can't help but think back to all that 2016 has held for us. It has been fuller, richer, busier, and more beautiful than we ever could have imagined and as we move into the New Year, it is with grateful hearts and a renewed sense of intention and joy.
When we opened Jules & BING! in May, it was all of our entrepreneurial dreams realized. In this world where everyone seems to have everything, we wanted to open a space in which you could create something personal… something that was distinctly and perfectly yours. We wanted to give you a memory.
Each item that we sell goes home with you and it will mark a certain moment in your life. The tiny blanket in which you wrapped your baby, the t-shirt your son wore to his birthday party, the cosmetic bag you gave to your daughter when she turned thirteen. Or the gift you gave to someone you hold dear… the throw you presented to your niece with her graduation date, the water bottle with your nephew's name on it so he won't lose it, the personalized wine glasses you gave your best friends.
And so much more… it is quite amazing to witness the infinite amount of things that can be created when your inspirations are your own creativity and love.
Our most cherished thought is, that many years from now, you stumble upon something that we helped you make. Maybe it's the sweater you had embroidered for your newborn whom you are now sending off to college, or you see your aunt cooking in that monogrammed apron that is stained and well-worn, or you notice that your dad still keeps that hankie you gave him on your wedding day in his pocket. Of course, the moments pass, but that memory is there forever. When you take each piece home with you and use it, year after year, we know that it will carry the meaning and the love with which it was created— and that is why we started this in the first place.
This purposeful work is the energy that drives us and inspires us. It has pushed us through these many months… right out one door and into another. The opportunity came for us to move into a bigger space and, once we were moved in, it became thoroughly clear that it was the space in which we were always meant to be. Around the same time that we were expanding our business and filling up a bigger space, we were also expanding our family. That's right— our oldest daughter, Julianna, was married in November! So in the same month, we opened our business to a larger space and opened our arms to a son. It has been a beautiful (and busy!!) time of growth and change.
As we think back on the life of Jules & BING!, through our incredible evolution, the thing that has stayed the same, that has consistently been there, that has made these months so beautiful, is you… our customers. We are grateful beyond words. Every time our door opens and someone walks in, we are so excited to find out what memory we will help you create, what moment we will be a part of capturing, who we will help you love. And as we look forward and step into the New Year, we can't help but wonder what experiences are out there, just waiting to be made… the ones you will hold onto forever.
What memories will you make?